West Highland Way
De West Highland Way was het eerste langeafstands wandelpad in Schotland. De route van deze wandelvakantie begint in Milngavie, nabij Glasgow, en eindigt na 152 km (95 mijl) door schitterende landschappen in Fort William, aan de voet van de Ben Nevis, de hoogste berg van Groot Brittannië.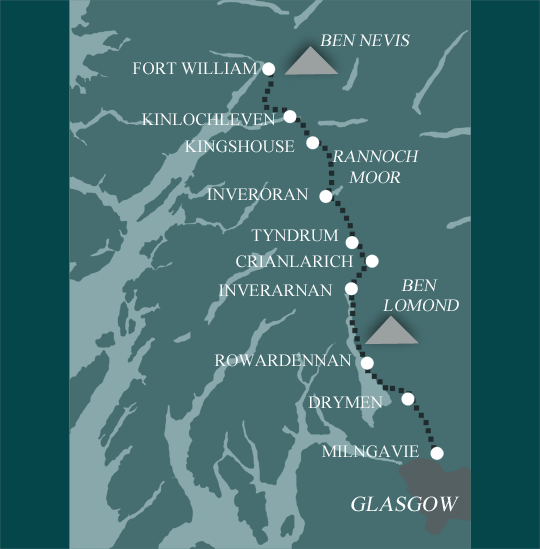 Onze vakanties
We have a range of walking holidays along the West Highland Way from our full 6, 7, 8 or 9 day option, to our shorter 3 day options. Make your choice depending on your available time and the pace you find most comfortable. Click on the links below to have a look at the details for each West Highland Way walking holiday.
De gehele West Highland Way
Milngavie naar Fort William 95 mijl/153 km
Wij bieden vier vakanties aan die gehele tocht omvatten, de langer het aantal dagen de korter de dagelijks te lopen afstanden.
Heuvels en Meren - Milngavie- Crianlarich
Milngavie naar Crianlarich 46 mijl/74 km
Spectaculair landschap langs Loch Lomond.
De bergen - Crianlarich naar Fort William
Crianlarich naar Fort William 49 mijl/79 km
Een mooie tocht door de Schotse Highlands.