Herriot Way
De Herriot Way is een 84 km rondtocht en loopt door een aantal van de mooiste landschappen in de Yorkshire Dales. Het is gebaseerd op een wandeling die de bekende dierenarts en schrijver James Herriot een aantal jaren geleden maakte. Hij bezoekt zijn favoriete locaties en plaatsjes waar hij woonde en werkte, beroemd gemaakt in zijn boeken "James Herriot's Yorkshire" en "All Creatures Great and Small".
Het begint en eindigt in Aysgarth in het hart van Wensleydale, beroemd om zijn kaas en watervallen. Het loopt door het fantastische Swaledale bekend om zijn bloemenweiden doorbroken door stenen muurtjes.
Het pad leidt u door dalen, over met heide begroeide heuvels en bezoekt onderweg traditionele dorpjes en het marktstadje Hawes.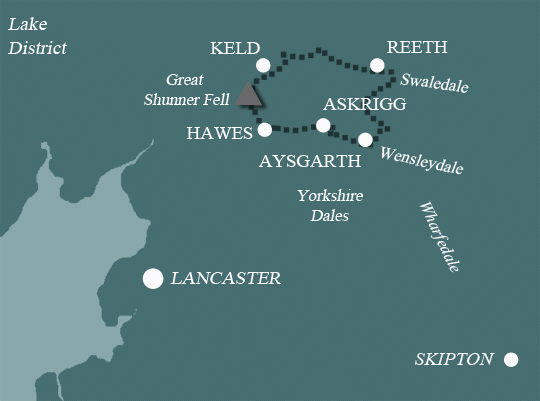 Onze vakanties
This is a circular route so you can choose to start in any location. Our itinerary is described starting from Aysgarth in a clockwise direction. This is the traditional way to walk it and is how the guidebook describes the route.
Click on the links below for more detailed information.
Herriot Way: Aysgarth naar Aysgarth
Aysgarth naar Aysgarth 52 mijl/84 km
We hebben twee opties, de langere route van 5 wandeldagen splitst de Aysgarth naar Hawes dag in Askrigg zodat u twee kortere dagen heeft. Dit geeft u ook tijd om het stadje Hawes verkennen.