Vale of Lorton
Dit is onze makkelijkste vakantie in een van de rustigste delen van het Lake District National Park. De route gaat rond de stille meren Loweswater, Crummock en Buttermere in de noordwest hoek van het Lake District en volgt duidelijke paden, bospaden en landweggetjes.
De afstanden per dag zijn kort en behalve een 200 meter klim over een bergpas blijft de route in de relatief vlakke valleien. Er is voldoende tijd: u kunt het rustig aan doen en genieten van het spectaculaire landschap en de rust.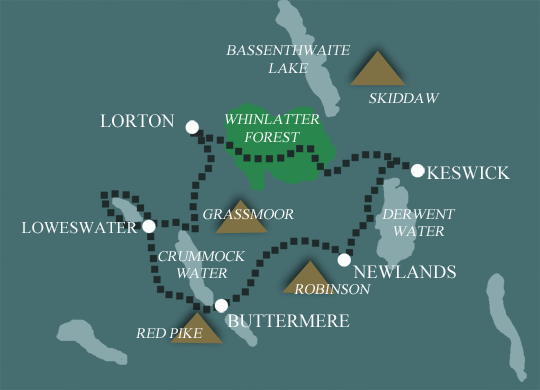 Onze vakanties
We offer two holidays in the Vale of Lorton. One is for 4 nights and the other is 6 nights. Make your choice depending on your available time and the pace you find most comfortable.
Vale of Lorton
Keswick naar Aber Mawr 28 mijl/45 km
Wij bieden twee vakanties aan die gehele tocht omvatten, de 5 daagse tocht doet het rustig aan terwijl de 3 daagse tocht wat langere afstanden heeft.