De Cumbria Way
De Cumbria way loopt door het midden van Cumbria vanaf het markt stadje Ulverston, vlakbij de kust van Morecambe Bay in het zuiden, naar de oude stad Carlisle aan de Schotse grens. Tussen deze twee steden gaat de route door Lake District's beroemdste en meest spectaculaire landschappen.
De route gaat als dit mogelijk is door valleien, en derhalve vermijdt het de hoge bergen over het grootste deel van de tocht. Paden langs meren, oude karrensporen, paden diep in de vallei gelegen, ze vormen allemaal een deel van de route.
Er zijn twee gedeeltes die hoger in de bergen gelegen zijn, beide delen hebben goed aangelegde paden. Deze zijn gelegen tussen Langdale en Borrowdale (over Stakes Pass) en tussen Keswick en Caldbeck (over de flanken van Skiddaw).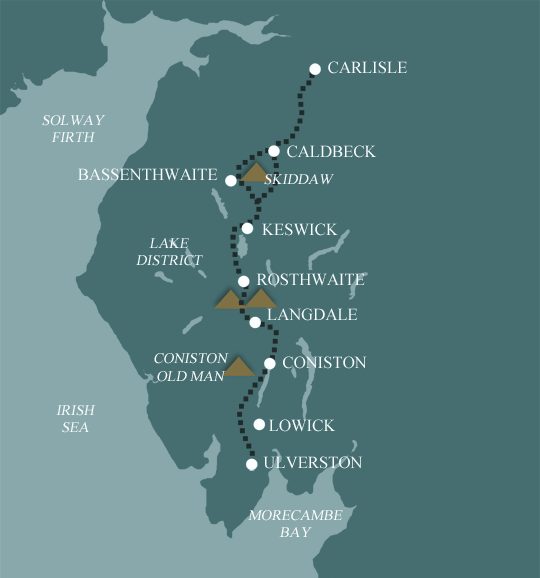 Onze vakanties
We have three different options for the whole Cumbria Way route – choose from 5, 6 or 8 days walking, depending on how far you want to go each day.
Some people choose to finish the walk at Caldbeck, as the final day to Carlisle is arguably less interesting, crossing mainly agricultural land – the Cumbria Way Highlights below, covers this option.
Finally, we have the 3 day or 4 day 'Best of the Cumbria Way' short breaks, covering only the more dramatic section between Coniston and Keswick.
De gehele Cumbria Way
Ulverston naar Carlisle 72 mijl/116 km
Wij hebben drie verschillende vakanties voor de hele Cumbria Way tocht- kies uit 5, 6 of 8 dagen wandelen afhankelijk van hoe ver u per dag wil lopen.
Cumbria Way- Ulverston naar Caldbeck
Ulverston naar Caldbeck 58 mijl/93 km
Deze tochten beslaan de gehele Cumbria Way binnen het Lake District National Park, maar laat de laatste lange dag naar Carlisle vervallen. Wij hebben drie verschillende opties voor de Cumbria Way hoogtepunten tochten- kies uit 4, 5 of 7 dagen wandelen afhankelijk van hoe ver u per dag wil lopen.
Cumbria Way- Coniston naar Keswick
Coniston naar Keswick 28 mijl/45 km
Deze wandeling bestreikt het centrale deel van de Cumbria Way. Als u maar een paar dagen beschikbaar heeft is dit een goede optie. Deze tocht omvat het meest spectaculaire deel van de Cumbria Way waaronder de Langdale en Borrowdale valleien zowel als de afgelegen Stakes Pass die de twee verbind.