Northumberland Kust Pad
De Northumberland kust is het meest bekend om zijn uitgestrekte stranden, imposante kastelen, duinen en afgelegen eilanden. Te midden van dit spectaculaire landschap zijn er verscheidene natuurreservaten met een overvloed aan flora en fauna.
De 103 km lange tocht volgt voornamelijk de kust er is een deel waar de tocht landinwaarts gaat tussen Belford en Holy Island. U loopt langs stranden en over voetpaden in de duinen, met stukjes op kleine weggetjes, bos- en karrepaden. Deze wandelvakantie is overwegend vlak en makkelijk te volgen.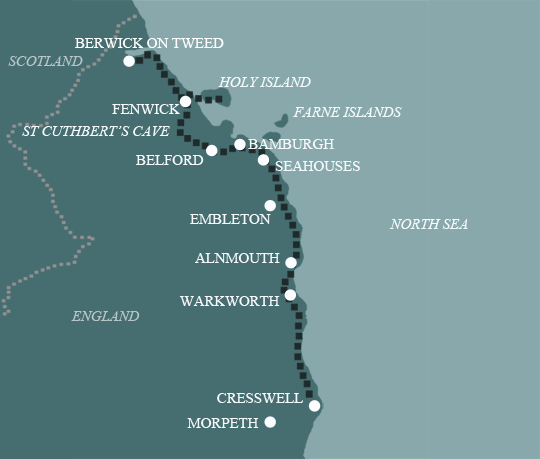 Onze vakanties
We hebben drie verschillende vakantie pakketten voor de volledige Northumberland kustroute. U kunt kiezen tussen 4, 5 of 6 wandeldagen, afhankelijk van hoeveel kilometer u per dag wilt lopen. Voor elke vakantie is er de mogelijkheid om een extra wandeldag toe te voegen om over de zandvlakte naar Holy Island te lopen.
Klik op de links hieronder voor meer gedetailleerde informatie van elke vakantie.
Het Northumberland Kust Pad
Morpeth naar Berwick-Upon-Tweed 64 mijl/103 km
Wij hebben drie verschillende vakanties voor de hele Northumberland kust tocht- kies uit 4, 5 of 6 dagen wandelen afhankelijk van hoe ver u per dag wil lopen. Op iedere vakantie is het mogelijk een extra dag toe te voegen om naar Holy Island over te steken.