North Cornwall Coast Path: Westward Ho! naar Padstow
Westward Ho! to Padstow in 9 dagen wandelen Code: CNE10
We bieden twee verschillende vakanties van Westward Ho! naar Padstow - kies uit 7 of 9 dagen wandelen, afhankelijk van hoe ver je per dag wil lopen. Dit gedeelte van de SWCP is een van de moeilijkste secties vanwege de vele beklimmingen en afdalingen in een afgelegen omgeving.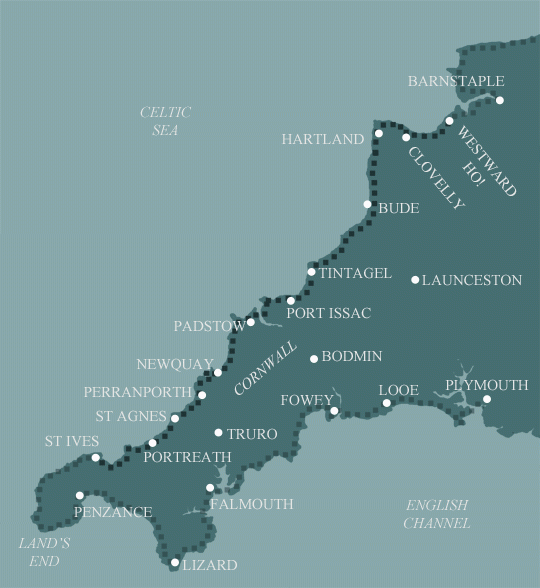 Dit is de langste vakantie van Westward Ho! naar Padstow. De route is uitdagend met enkele steile beklimmingen, deze zijn goed te doen voor ervaren wandelaars. Er zijn een paar lange dagen op deze route, maar ook wat kortere dagen zodat je van de omgeving kan genieten!
| | | Mijl | Km |
| --- | --- | --- | --- |
| Dag 1 | Reis naar Westward Ho voor uw eerste overnachting | | |
| Dag 2 | Westward Ho naar Clovelly | 11 | 18 |
| Dag 3 | Clovelly naar Hartland Quay | 10 | 17 |
| Dag 4 | Hartland Quay naar Morwenstow | 8 | 12 |
| Dag 5 | Morwenstow naar Bude | 7 | 11 |
| Dag 6 | Bude naar Crackington Haven | 10 | 16 |
| Dag 7 | Crackington Haven naar Boscastle | 7 | 11 |
| Dag 8 | Boscastle naar Tintagel | 5 | 8 |
| Dag 9 | Tintagel naar Port Isaac dan transfer naar Tintagel | 9 | 14 |
| Dag 10 | Transfer terug naar Port Isaac dan wandelen naar Padstow | 12 | 19 |
| Dag 11 | Vetrek uit Aber Mawr na uw ontbijt | | |
Westward Ho! to Clovelly –  Steep cobbled streets and fishing villages
Westward Ho! is the only English place name with an exclamation mark in its title and the name came from the novel of the same name by Charles Kingsley. Upon leaving Westward Ho! you are treated with glorious views where, on a sunny day, you may spot Clovelly in the distance. After following a disused railway track that used to run inland to Bideford, the trail then heads south along the coastline where you trek upwards on to the clifftops passing Abbottsham and Green Cliff. From Peppercombe the trail changes quite suddenly as the terrain is set in a woodland environment. The trail then slopes through Sloo and Worthygate woods and then drops down into Buck's Mills and into cobble-streeted Clovelly.
Clovelly to Hartland Quay – Lighthouses and woodland terrain
Clovelly is one of the loveliest villages on the South West Coastal path with its four-hundred feet of cobbled streets and its narrow cleft in the coastline of North Devon.  There aren't many cafés or places to stop on this section so it is best to stock up on supplies in Clovelly. Leaving the steep, cobbled streets of Clovelly behind the trail begins with a stroll through the woods of Gallantry Bower and onto Snaxland. If you're a keen bird watcher you're in for a treat when you reach Gallantry Bower, with a chance of seeing stonechats, linnets and meadow pipits. Once you leave the ancient woodland the landscape becomes less sheltered and you're more exposed to its elements. Following on the clifftops you reach the lighthouse which marks Hartland Point. From here the trail takes a sudden Southerly turn where the trail takes you along the wildest and remotest part on the whole of the South West Coastal Path. The dramatic landscape here is an awe-inspiring experience with its waterfalls cracking into the rocky beaches of the Atlantic, the wildflowers and seabirds also contribute to this secluded and rough section on your way down into Hartland Quay.
Hartland Quay to Bude – Striking waterfalls and remote coastal landscapes
This section starts easier than the previous day, as it eases you back along the coastline. But don't take too much time to begin today's walk as this part of the trail is arguably one of the hardest with its long ascents. There are roughly ten ascents and descents on this section, which can be tough at times, so remember to stock up on supplies to get you through as there aren't many places to stop. The trail passes the outstanding waterfalls at St Catherine's Tor and Speke's Mill Mouth which cannot be missed. With a slow climb up towards Sandhoe Cliff you are rewarded with terrific views of this secluded area. The trail then descends the steps to the floor of the valley and you cross the border into Cornwall, the exact boundary marked by a bridge and a signpost welcoming you into 'Kernow'. You must stop at the smallest property owned by the National Trust in the UK, which is known as Hawkers Hut. This next section gives you a real sense of isolation here and the views are beautiful – in particular the views from Higher Sharpnose Point and Steep Point. The next section is less strenuous leading you into the surfer's paradise of Bude.
Bude to Crackington Haven – Surfers paradise and sandy beaches
After your night in Bude your day's walk begins along an easy grassy cliff path from the beaches of Bude. You might be lucky enough to spot grey seals from the glorious cliffs at Phillip's Point Nature Reserve. This section provides you with wide and open views of the Atlantic from high clifftop paths. The trail then takes you over the top of Widemouth Bay (pronounced 'Widmouth'). The path then changes and can be rough in places with a punishing ascent onto Penhalt Cliff between Foxhill Point and Dizzard Point. The path eventually winds downhill with some steep descents into Crackington Haven.
Crackington Haven to Tintagel – High Cliff, buzzards and the myth of King Arthur
From the sheltered village of Crackington Haven you begin this section with some steep climbs, including the aptly named High Cliff (731ft) at the highest point and the cliff of Buckator towering over Gull Rock. After a long descent from the clifftops you arrive at the famous Pentargon high waterfall, made famous by the English author Thomas Hardy who wrote a poem from his time here called 'Under the Waterfall'. You can usually spot some impressive birdlife on this part of the trail so look out for peregrine falcons, buzzards and kestrels. There are some beautiful rugged coves and clefts on your approach to Boscastle – a stunning fishing village filled with Cornish charm and great place to stop for a cup of tea and a Cornish scone! Over the next 5 miles you'll leave the high cliffs behind as you are eased back along the trail, passing by the Willapark Iron Age fort which is now a National Coastwatch tower. The walking from here is not too taxing and there are plenty of places for a break, not least the sheltered Rocky Valley just before Bossiney, which has a narrow gorge for some much needed sheltered on a sunny or windy day. You then reach the end of this section in the legendary village of Tintagel. Look out for the ruins of Tintagel castle – famous for being the mythical birthplace for King Arthur.
Tintagel to Padstow – Tin mines, seafood restaurants and sandy beaches
Upon leaving the fascinating village of Tintagel the path begins with an easy stroll past an old slate quarry and tin mine workings. Once you pass the attractive hamlet of Trebarwith Strand the path becomes more challenging with several ascents and descents along the coastline. After reaching the idyllic village of Port Gavern and its neighbouring village of Port Isaac the path becomes a lot less demanding. Port Isaac has sprung to fame in recent years as a filming location for the English television drama 'Doc Martin'. From here the next 3 miles take you on a winding trail up and down the clifftops with views of Padstow in sight. Once you reach the holiday town of Polzeath you leave the clifftops behind and follow an easy footpath to Trebetherick and then onto the village of Rock. From Rock you can take the passenger ferry across to Padstow which runs very regularly. Padstow has a lot to offer the hungry walker and you're spoilt for choice for eateries. You're in for a treat after completing this wild and rugged part of the South West Coast Path!




Middelmatig - Uitdagend
Dit is een relatief makkelijke wandeling en meeste mensen met een goede conditie kunnen deze tocht doen. De paden zijn goed en de navigatie eenvoudig.
Terrein: Een kustpad dat voornamelijk door boerenland, veenland, klifpaden en korte delen langs stranden gaat.
Hoe zijn de paden: Voornamelijk goede paden en laantjes maar kleine delen kunnen wat modderig zijn na regen.
Hoeveel klimmen/ dalen: Meer dan je zou verwachten! Alhoewel u nooit hoger dan 200 meter boven zeeniveau (en meestal maar 100 m) klimt zijn er vele korte steile klimmetjes. De meeste dagen hebben een totaal van tussen de 200 en 400 meter stijging, deze zijn echter van korte duur.
Bewegwijzering: Goed. het pad is goed bewegwijzert
Navigatie: Vrij eenvoudig, goede paden en bewegwijzering, houd uw kaart en gidsje echter bij de hand.
Weer: Als u geluk heeft dan is het de hele dag droog en warm weer en geniet u van de prachtige uitzichten, maar neem altijd regenkleding mee, het weer kan snel veranderen.
                                                                                            All Holidays

Accommodation
Overnight Bed and Breakfast accommodation in selected hotels, farmhouses, village inns, guest houses and family B&Bs. Full English or Continental breakfast.
Guidebook
A detailed guidebook with route information, maps, photos and background information.
Information of Services Along the Route
A comprehensive Service Info sheet, including services such as cash points, banks, post offices, village shops, inns, cafes and taxis.
Maps
A waterproof map from Harvey Maps covering the whole route.
Personal Itinerary
A personal itinerary setting out each overnight stop, including large scale maps of each accommodation, to ensure you find it easily.
Emergency Telephone Support
If you get in to difficulties during your holiday, we are always available to help, even out of office hours.
12.5% discount at Cotswold Outdoors
We will issue you with a 12.5% Discount Card valid at all Cotswold Outdoor stores, and online, for the whole year on confirmation of your booking.

                                                                                                   Options

Luggage Transport
We will transfer your luggage between each overnight stop if you leave your luggage at the accommodation when you set off in the morning, it will be moved on to your next B&B. You only need to carry a small day sack with the clothes and provisions you require during the day's walk.
Packed Lunches

Provided for each day's walking and recommended on this holiday as there will not always be a handy shop or cafe on the route.
Off Road Parking
It is not possible to leave your car for the duration of the walk, the B&B's do not have the space to allow long term parking. Please see the public transport tab for more information on travelling to and from the route.

                                                                                                What's not Included

Evening Meals
Your evening meal isn't included in the package, but we include full details and recommendations for each evening meal in your itinerary. You will normally be within walking distance of a pub and/or restaurant, or where there is good food available at the accommodation, we'll book that for you.
Transport to the Start & Away from the Finish
Have a look at the "Travel Info" tab above for suggestions. If you're still struggling, get in touch and we'll help you sort it out.
Travel Insurance
Even if you are based in the UK travel insurance is worth having.
Goede accommodatie en een vriendelijk ontvangst zijn een essentieel onderdeel van alle vakanties. Wij begrijpen dit en doen ons best om de mooiste accommodaties uit te zoeken. Wij besteden een hoop tijd aan het selecteren van de accommodatie en doen ons best deze zoveel mogelijk aan de wensen van onze klanten toe te passen. Wij bezoeken alle accommodatie en vragen al onze klanten u kort evaluatieformulier in te vullen. Dit geeft ons een goed inzicht op de dagelijkse werkingen van de accommodaties en geeft ons een waarschuwing voordat er problemen ontstaan.
Wij gebruiken een verscheidenheid aan accommodatie op onze tochten, waaronder kleine hotelletjes, pensions in marktstadjes, Bed & Breakfasts in boerderijen, landelijke huisjes en Victoriaanse stadshuizen. Wij selecteren accommodatie die langs of zo dicht mogelijk bij het pad ligt en van goede kwaliteit is. Ook erg belangrijk is dat de gastvrouw/ heer vriendelijk en hulpvaardig is, wij werken al jaren met velen van de accommodaties en wij hebben over deze tijd een goede relatie opgebouwd.
De meerderheid van onze accommodatie is 4 sterren of hoger en is meestal ensuite (met badkamer op de kamer). In sommige locaties (vooral de meer afgelegen waar wij minder keus hebben) is dit niet altijd mogelijk en moeten wij op een of twee nachten een kamer boeken met een gedeelde badkamer. De kans hierop wordt groter als u kort voor vertrek boekt, wij maken u hierop attent als u laat boekt.
Westward Ho
Westward Ho! is beroemd om zijn surfers en het lange uitgestrekte zandstrand.
Bude
Bude is a compact seaside town with plenty of character and a fine beach. There's a small castle and heritage centre and enough local places of interest to keep you busy.
Prijzen

EUR (€)

Accommodatie, kaart en gidsje
€1564
met bagagevervoer
€1738
met lunchpakketten
€1680
met lunchpakketten en bagagevervoer
€1846

Verdere opties

Extra overnachtigingen
€109
Eenpersoonskamer toeslag (per nacht)
€70
Solo Luggage Supplement (per day)
€19