Het Norfolk Kustpad- Hunstanton naar Cromer
Hunstanton to Cromer in 4 days walking Code: PNC5
Het kustelijke deel van de route heeft twee opties van 3 dagen wandelen (4 nachten) en 4 dagen wandelen (5 nachten). U loopt via een aantal prachtige stranden, en door kwelders en natuurgebieden, een geweldige wandeling voor natuurliefhebbers. Een eenvoudig te volgen pad onderbroken door schilderachtige vissersdorpjes en badplaatsen met kraampjes waar u van verse vis kan genieten.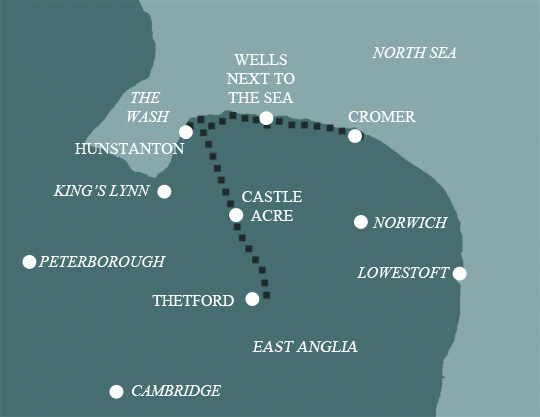 If you have the time available it is worth choosing this option, the low mileage each day allows you plenty of time to look around the towns, beautiful beaches and nature reserves along this spectacular coast.
| | | Mijl | Km |
| --- | --- | --- | --- |
| Dag 1 | Reis naar Hunstanton voor uw eerste overnachting | | |
| Dag 2 | Hunstanton naar Brancaster | 9 | 14 |
| Dag 3 | Brancaster naar Wells-Next-the-Sea | 12 | 19 |
| Dag 4 | Wells-Next-the-Sea naar Blakeney | 8 | 13 |
| Dag 5 | Blakeney naar Cromer | 16 | 26 |
| Dag 6 | Vetrek uit Cromer na uw ontbijt | | |
Hunstanton to Burnham Overy Staithe
You can walk to Holme-next-the-Sea underneath or over the top of the cliffs depending on the tide,  When the tide is out it is well worth taking the beach route to admire the beautifully coloured cliffs. The village of Thornham offers a pleasant lunch stop with some historic pubs. The path continues along marshland and intertidal mudflats with plenty of birdlife, you will also pass some fishing shacks where you can buy freshly dressed crab, whelks and cockles. You will then continue towards Scolt Head through the dunes and marshes and finally on to Burnham Overy Staithe.
Burnham to Wells-next-the-Sea
A beautiful section of the coastline with plenty of beaches all the way to Wells-next-the-Sea, the white sandy beach of Holkham Beach being the most well known. The backdrop of pine woods and dunes make for a spectacular combination, on a nice day one of the best beaches in Britain! After passing through Holkham Gap the trail continues through the pine woods and past a boating lake. You can access the beach here to have a look at the colourful beach huts. If your legs have had enough at this point it is possible to take a miniature railway into town.
Wells-next-the-Sea to Cromer
Another lovely day of coastal walking along salt marshes, there are a few nice little towns along the way where you can sample the local seafood. At Blakeney you will be able to see out to Blakeney Point, a 16 km long spit with a permanent seal colony and an abundance of birdlife. It is possible to take boat trips to Blakeney Point or walk in via Cley but you will need to factor in a rest day. Passing Cley next the Sea you will walk along a shingle ridge with wide views of the coast line towards Weybourne. The final stretch to Cromer follows the sea cliffs towards Sheringham, a pleasant town for a lunch stop with a large beach and a proud fishing heritage. A gentle climb takes you to Roman Camp and then on to the highest point on the route (102 m) at Beacon Hill. The walk finishes on Cromer pier, a fitting end to the seaside walk!


Makkelijk - Middelmatig
Dit is een vlakke wandeling en kan gelopen worden door mensen met weinig wandelervaring.
Terrein: Een vlakke wandeling. U gaat voornamelijk langs kustpaden, landweggetjes en stranden.
Hoe zijn de paden: Over het algemeen zijn de paden goed onderhouden en makkelijk te volgen.
Hoeveel klimmen/ dalen: Dit is een vlakke route
Bewegwijzering: Goed.
Navigatie: Vrij eenvoudig, goede paden en bewegwijzering,
All Holidays
Accommodation
Overnight Bed and Breakfast accommodation in selected hotels, farmhouses, village inns, guest houses and family B&Bs. Full English or Continental breakfast.
Guidebook
A detailed guidebook with route information, maps, photos and background information.
Maps
2 Ordnance Survey Landranger (1:50000) maps covering the entire route.
Personal Itinerary
A personal itinerary setting out each overnight stop, including large scale maps of each accommodation, to ensure you find it easily.
Emergency Telephone Support
If you get in to difficulties during your holiday, we are always available to help, even out of office hours.
12.5% discount at Cotswold Outdoors
We will issue you with a 12.5% Discount Card valid at all Cotswold Outdoor stores, and online, for the whole year on confirmation of your booking.
Options
Luggage Transport
We will transfer your luggage between each overnight stop – if you leave your luggage at the accommodation when you set off in the morning, it will be moved on to your next B&B. You only need to carry a small day sack with the clothes and provisions you require during the day's walk.
Packed Lunches
Provided for each day's walking and recommended on this holiday as there will not always be a handy shop or cafe on the route.
Off Road Parking
If you are travelling by car we can usually arrange off road parking for the duration of your trip. (There may be a small charge for this).
Arrangement of return transport
We can also arrange your transfer back to your car, (or advise you when public transport is a better option)!
What's not Included
Evening Meals
Your evening meal isn't included in the package, but we include full details and recommendations for each evening meal in your itinerary. You will normally be within walking distance of a pub and/or restaurant, or where there is good food available at the accommodation, we'll book that for you. Allow about £20.00 per night.
Transport to the Start & Away from the Finish
Have a look at the "Travel Info" tab above for suggestions. If you're still struggling, get in touch and we'll help you sort it out.
Travel Insurance
Even if you are based in the UK travel insurance is worth having.
Goede accommodatie en een vriendelijk ontvangst zijn een essentieel onderdeel van alle vakanties. Wij begrijpen dit en doen ons best om de mooiste accommodaties uit te zoeken. Wij besteden een hoop tijd aan het selecteren van de accommodatie en doen ons best deze zoveel mogelijk aan de wensen van onze klanten toe te passen. Wij bezoeken alle accommodatie en vragen al onze klanten u kort evaluatieformulier in te vullen. Dit geeft ons een goed inzicht op de dagelijkse werkingen van de accommodaties en geeft ons een waarschuwing voordat er problemen ontstaan.
Wij gebruiken een verscheidenheid aan accommodatie op onze tochten, waaronder kleine hotelletjes, pensions in marktstadjes, Bed & Breakfasts in boerderijen, landelijke huisjes en Victoriaanse stadshuizen. Wij selecteren accommodatie die langs of zo dicht mogelijk bij het pad ligt en van goede kwaliteit is. Ook erg belangrijk is dat de gastvrouw/ heer vriendelijk en hulpvaardig is, wij werken al jaren met velen van de accommodaties en wij hebben over deze tijd een goede relatie opgebouwd.
De meerderheid van onze accommodatie is 4 sterren of hoger en is meestal ensuite (met badkamer op de kamer). In sommige locaties (vooral de meer afgelegen waar wij minder keus hebben) is dit niet altijd mogelijk en moeten wij op een of twee nachten een kamer boeken met een gedeelde badkamer. De kans hierop wordt groter als u kort voor vertrek boekt, wij maken u hierop attent als u laat boekt.
Aanreis:
Met het vliegtuig: De internationale luchthavens met de beste verbindingen naar Norfolk zijn Stansted en Heathrow. Van Stansted is het 2 uur reistijd (overstappen in Cambridge) vanaf Heathrow is het 3 uur reistijd. Trein naar Kings Lynn, vervolgens de bus naar Hunstanton (reistijd 0.45 uur, bussen elk half uur).
Per openbaar vervoer: Trein naar Kings Lynn, vervolgens de bus naar Hunstanton (reistijd 0.45 uur, bussen elk half uur).
Per auto: Uit het zuiden M11, A11, Newmarket Bypass/A14 en A10 naar A149 voor Hunstanton.  Uit het noorden: A1 naar Newark -on-Trent, dan A17 Kings Lynn sla af op de A149 voor Hunstanton.
Terugreis:
Er is een treinstation in Cromer, reistijd naar Londen 3 uur, overstappen in Norwich.
Hunstanton
The Victorian seaside resort of Hunstanton  with it's beautiful striped cliffs, beaches and colourful gardens  is a great place for a rest day. There is plenty to see and do with shops, cafés, nature and bird reserves.  If you want to give your legs a rest you can take the land train to the lighthouse or a boat trip to view Europe's largest seal colony.
Wells-Next-the-Sea
Wells is a lovely town with a little harbour full of crabbing boats, a white sandy beach, Georgian architecture and surrounded by pine woodlands. A pleasant laid back place to spend a relaxing day. There are plenty of small local shops and eateries.
Blakeney
A pleasant traditional fishing village, this is a good place to stop if you want to make a trip out to Blakeney Point. This 16 km long spit is home to a permanent seal colony and has many bird species nesting between April and July. You can take a boat trip out to the spit (times vary according to the tides) or you can walk in from Cley.
Cromer
The seaside resort of Cromer is well known for it's magnificent pier, beaches, birdlife and many family owned shops and restaurants. There are several nearby National Trust properties with beautiful gardens to while away the day. Alternatively you can take a boat trip to Blakeney Point to watch the seals or go bird watching in what is considered the bird watching capital of Britain.
Prijzen

EUR (€)

Accommodatie, kaart en gidsje
€806
met bagagevervoer
€888
met lunchpakketten
€857
met lunchpakketten en bagagevervoer
€936

Verdere opties

Extra overnachtigingen
€109
Eenpersoonskamer toeslag (per nacht)
€68
Solo Luggage Supplement (per day)
€20