South Devon Coast Path: Exmouth naar Lyme Regis
Exmouth naar Lyme Regis in 3 dagen wandelen Code: DSE4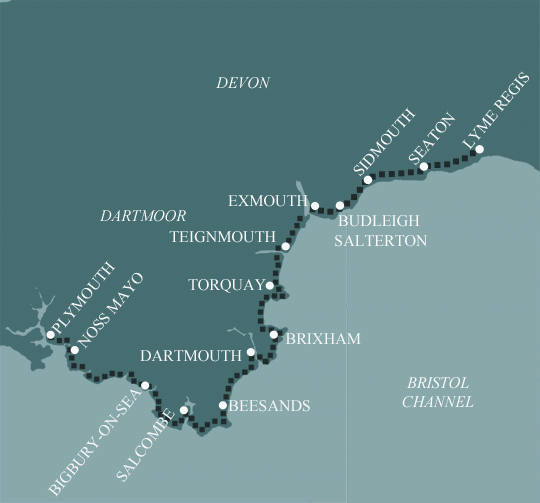 Dit is onze kortste vakantie van Exmouth naar Lyme Regis. De hele route lopen over 3 dagen is perfect als je een uitdagende wandeling wil. De gemiddelde dagelijkse kilometerstand van deze vakantie is 16 km, waarbij de eerste dag de langste is, de volgende dagen zijn de afstanden kleiner maar het terrein wat uitdagender.
| | | Mijl | Km |
| --- | --- | --- | --- |
| Dag 1 | Reis naar Exmouth voor uw eerste overnachting | | |
| Dag 2 | Exmouth naar Sidmouth | 12 | 20 |
| Dag 3 | Sidmouth naar Beer | 9 | 14 |
| Dag 4 | Beer naar Lyme Regis | 8 | 14 |
| Dag 5 | Vetrek uit Lyme Regis na uw ontbijt | | |
Exmouth to Sidmouth – the start of the Jurassic Coast World Heritage Site
The walk starts at a leisurely pace along the Exmouth seafront, the longest in Devon, but before long the going gets tougher as you climb to Orcombe Point where the Geoneedle Momument marks the start of the Jurassic Coast. The route is strenuous at times but you are rewarded with beautiful views from the clifftops across to West Down Beacon and over to Brandy Head, not to mention the marvellous sea stacks at Ladram Bay.  Budleigh Salterton is almost halfway between Exmouth and Sidmouth and is a great spot for lunch. You leave Budleigh Salterton along the promenade, passing through the saltmarsh habitat of Otter Estuary Nature Reserve before being confronted with two threatening sounding cliffs: Danger Point and Black Head, but don't worry as neither are particularly steep! The trail continues with only one strenuous climb just before you reach Sidmouth.
Sidmouth to Beer – charming fishing villages, wildflowers and clifftops.
As you leave Sidmouth, a steep climb up Salcombe Hill Cliff (500ft) offers a taste of what is ahead, with plenty of ascent and descent as you make your way along the cliffs to Branscombe Mouth. The views back along the South Devon Coast and the red cliffs towards Dorset ahead of you offer ample reward, along with a whole variety of flora and fauna. If you're lucky you might spot a green woodpecker at Lincombe and the wildfowers and butterflies at Weston are a delight. The terrain becomes less strenuous after Branscombe Mouth, passing under Hooken Cliffs before climbing again to Beer Head, with some lovely cliff top walking to finish the day as you approach the quaint fishing village of Beer.
Beer to Lyme Regis – a unique wilderness

This section of the walk has a very different feel to the others on the route. Leaving the pretty fishing village of Beer, the trail leads you to Seaton, a delightful village with a selection of shops to stock up on lunch supplies. After, comes the only real climb on this day's walk onto Haver Cliff before you enter the incredible Undercliffs National Nature Reserve. Formed from landslips, this wooded wilderness is home to an array of wildlife making it a nature lover's paradise. The terrain can be tricky under foot and the 5 mile stretch can take 3-4 hours to complete as you make the most of the unique surroundings. Leaving the reserve the trail descends into Lyme Regis, often called 'The Pearl of Dorset', with an attractive harbour, shops and restaurants. With rocks from the Jurassic, Triassic and Cretaceous periods exposed, this stretch of the coast is fascinating for anyone interested in geology and there are several museums in Lyme Regis worthy of a visit.



Middelmatig
Dit is een relatief makkelijke wandeling en meeste mensen met een goede conditie kunnen deze tocht doen. De paden zijn goed en de navigatie eenvoudig.
Terrein: Een kustpad dat voornamelijk door boerenland, veenland, klifpaden en korte delen langs stranden gaat.
Hoe zijn de paden: Voornamelijk goede paden en laantjes maar kleine delen kunnen wat modderig zijn na regen.
Hoeveel klimmen/ dalen: Meer dan je zou verwachten! Alhoewel u nooit hoger dan 200 meter boven zeeniveau (en meestal maar 100 m) klimt zijn er vele korte steile klimmetjes. De meeste dagen hebben een totaal van tussen de 200 en 400 meter stijging, deze zijn echter van korte duur.
Bewegwijzering: Goed. het pad is goed bewegwijzert
Navigatie: Vrij eenvoudig, goede paden en bewegwijzering, houd uw kaart en gidsje echter bij de hand.
Weer: Als u geluk heeft dan is het de hele dag droog en warm weer en geniet u van de prachtige uitzichten, maar neem altijd regenkleding mee, het weer kan snel veranderen.
                                                                         All Holidays

Accommodation
Overnight Bed and Breakfast accommodation in selected hotels, farmhouses, village inns, guest houses and family B&Bs. Full English or Continental breakfast.
Guidebook
A detailed guidebook with route information, maps, photos and background information.
Information of Services Along the Route
A comprehensive Service Info sheet, including services such as cash points, banks, post offices, village shops, inns, cafes and taxis.
Maps
A waterproof map from Harvey Maps covering the whole route.
Personal Itinerary
A personal itinerary setting out each overnight stop, including large-scale maps of each accommodation to ensure you find it easily.
Emergency Telephone Support
If you get in to difficulties during your holiday, we are always available to help, even out of office hours.
12.5% discount at Cotswold Outdoors
We will issue you with a 12.5% Discount Card valid at all Cotswold Outdoor stores, and online, for the whole year on confirmation of your booking.

Options

Luggage Transport
We will transfer your luggage between each overnight stop if you leave your luggage at the accommodation when you set off in the morning, it will be moved on to your next B&B. You only need to carry a small day sack with the clothes and provisions you require during the day's walk.
Packed Lunches

Provided for each day's walking and recommended on this holiday as there will not always be a handy shop or cafe on the route.
Off Road Parking
It is not possible to leave your car for the duration of the walk, the B&B's do not have the space have the space to allow long term parking. Please see the public transport tab for more information on travelling to and from the route.

What's not Included

Evening Meals
Your evening meal isn't included in the package, but we include full details and recommendations for each evening meal in your itinerary. You will normally be within walking distance of a pub and/or restaurant, or where there is good food available at the accommodation, we'll book that for you.
Transport to the Start & Away from the Finish
Have a look at the "Travel Info" tab above for suggestions. If you're still struggling, get in touch and we'll help you sort it out.
Travel Insurance
Even if you are based in the UK travel insurance is worth having.
Goede accommodatie en een vriendelijk ontvangst zijn een essentieel onderdeel van alle vakanties. Wij begrijpen dit en doen ons best om de mooiste accommodaties uit te zoeken. Wij besteden een hoop tijd aan het selecteren van de accommodatie en doen ons best deze zoveel mogelijk aan de wensen van onze klanten toe te passen. Wij bezoeken alle accommodatie en vragen al onze klanten u kort evaluatieformulier in te vullen. Dit geeft ons een goed inzicht op de dagelijkse werkingen van de accommodaties en geeft ons een waarschuwing voordat er problemen ontstaan.
Wij gebruiken een verscheidenheid aan accommodatie op onze tochten, waaronder kleine hoteletjes, pensions in marktstadjes, Bed & Breakfasts in boerderijen, landelijke huisjes en Victoriaanse stadshuizen. Wij selecteren accommodatie die langs of zo dicht mogelijk bij het pad ligt en van goede kwaliteit is. Ook erg belangrijk is dat de gastvrouw/ heer vriendelijk en hulpvaardig is, wij werken al jaren met velen van de accommodaties en wij hebben over deze tijd een goede relatie opgebouwd.
De meerderheid van onze accommodatie is 4 sterren of hoger en is meestal ensuite (met badkamer op de kamer). In sommige locaties (vooral de meer afgelegen waar wij minder keus hebben) is dit niet altijd mogelijk en moeten wij op een of twee nachten een kamer boeken met een gedeelde badkamer. De kans hierop wordt groter als u kort voor vertrek boekt, wij maken u hierop attent als u laat boekt.
Sidmouth
The famous poet John Betjeman whose work was inspired by Sidmouth once described the town as "A town caught still in a timeless charm". The town itself is a wonderful place to explore and relax in after a day's walk. Sidmouth lies on the Jurassic Coast and the coastline is dominated by the rich red sandstone cliffs which dates back to the Triassic period.
Lyme Regis
A rest day in Lyme Regis is a must as the scenery is breath-taking in any weather. Its historic Cobb and harbour are iconic to the area. Lyme Regis is home to a number of historical landmarks and education attractions.  If you have the time to add a rest day on your holiday Lyme Regis is a great spot to explore!
Prijzen

EUR (€)

Accommodatie, kaart en gidsje
€655
met bagagevervoer
€713
met lunchpakketten
€694
met lunchpakketten en bagagevervoer
€749

Verdere opties

Extra overnachtigingen
€109
Eenpersoonskamer toeslag (per nacht)
€70
Solo Luggage Supplement (per day)
€19