North Lakes Traverse
Dit is een van onze eigen routes en verbindt de meren Ullswater, Thirlmere en Derwentwater. Deze route gaat langs meren, het hoogland ('fells') en de bergpassen van de noordelijke Lakes. Waar mogelijk zijn er hoge en lage routevarianten, dus u kunt deze wandelroutes aanpassen aan uw prestatieniveau, conditie of aan het weer!
Het is een mooie introductie tot het noord west Lake District, met een hoop variatie.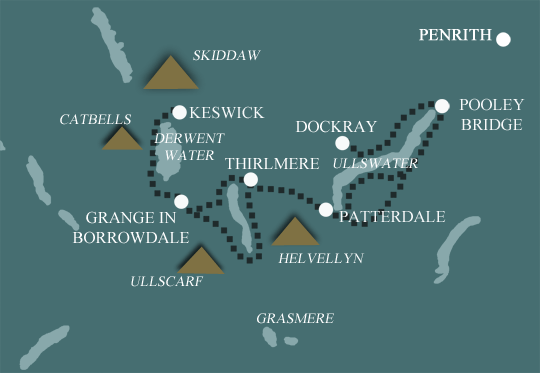 Onze vakanties
Wij hebben twee verschillende North Lakes Traverse opties- U kan de gehele tocht lopen in 5 dagen (6 overnachtingen) of u kan ervoor kiezen om een deel van de tocht te lopen in 3 dagen (4 overnachtingen) van Pooley Bridge naar Borrowdale.
North Lakes Traverse
Keswick naar Keswick 42 mijl/68 km
De gehele tocht beginnend in Dockray (na uw eerste overnachtiging in Keswick) deze wandeling bezoekt het noord west Lake District, met 3 meren en een bergpas.
North Lakes Korte Tocht
Pooley Bridge naar Rosthwaite 26 mijl/41 km
Dit is een kortere versie van de volledige tocht voor diegenen met minder tijd, de route beslaat echter nog steeds de drie meren. Het begint in Pooley Bridge bij Ullswater en eindigt in Grange in Borrowdale.