The Lizard: Penzance naar Falmouth
Penzance naar Falmouth in 5 dagen wandelen Code: CSL6
We bieden twee verschillende vakanties van Penzance naar Falmouth - kies uit 4 of 5 dagen wandelen, afhankelijk van hoe ver je per dag wil lopen. Dit is een geweldige manier om het meest zuidelijke punt van Groot-Brittannië (Lizard Point) te verkennen, langs de ruige kustlijn met verborgen baaien vol geschiedenis.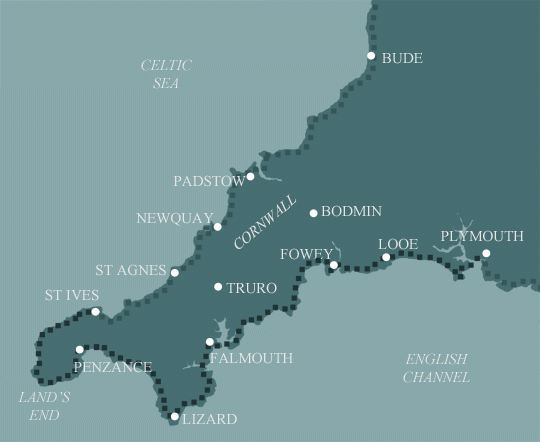 Dit is de langste vakantie die de route van Penzance naar Falmouth beslaat.
De gemiddelde loop afstand is 21 km, maar de laatste dag naar Falmouth is slechts 6.5 km. Deze wandeling geeft je voldoende tijd om te genieten van de stranden, het kasteel en de vogels. Je bezoekt het meest zuidelijke punt van Groot-Brittannië en dwaalt door de mysterieuze inhammen van deze prachtige kust.
| | | Mijl | Km |
| --- | --- | --- | --- |
| Dag 1 | Reis naar Penzance voor uw eerste overnachting | | |
| Dag 2 | Penzance naar Porthleven | 13 | 21 |
| Dag 3 | Porthleven naar Lizard | 13 | 21 |
| Dag 4 | Lizard naar Coverack | 11 | 18 |
| Dag 5 | Coverack naar Mawnan Smith | 15 | 24 |
| Dag 6 | Mawnan Smith naar Falmouth | 4 | 6 |
| Dag 7 | Vetrek uit Falmouth na uw ontbijt | | |
Penzance to Porthleven- Islands of wonder, beaches, history
After spending your first night in Penzance you begin your walk along a tarmac path adjacent to Mounts Bay with views of St Michael's Mount. Once you reach the peaceful village of Marazion the trail takes you along the coastline where you wind your way along the trail on a fairly flat track. This section does require close attention in following the waymarker posts to avoid walking inland. The trail then picks up a bit once you reach Perran Sands where you walk in and out of the coves. Continuing along the trail you reach Prussia Cove which was an area known for smuggling exports. After climbing out of the Prussia Cove you have a good section of cliff-top walking and you will pass to the side of the impressive beach of Praa Sands. The rest of this section is a mixture of fields, as you head more inland, then dramatic cliff-top walking before you eventually reach Porthleven.
Porthleven to Lizard- Long sandy beaches, lighthouses and birdlife
You begin your walk out of Porthleven by passing the iconic Porthleven clock tower. After walking along the coastal trail you pass Loe bar which is a freshwater lagoon and a popular spot for keen birdwatchers. The trail then passes over the tiny beach at Gunwalloe where the church of St Winwaloe hides in the sand dunes. Beyond here the trail is along exposed cliff tops rewarding you with some of the best views over the treacherous rocks where many ships have been wrecked in bad weather. The trail continues along the coast down towards Lizard Point – the most southerly point in Great Britain. The village of Lizard is just less than a mile inland from here. Lizard can surprise many visitors with its coloured houses and shops which make for an interesting change from previous villages you pass.

Lizard to Coverack- Wild to Mild
You begin this section by setting off from the most southerly point of Great Britain at Lizard lighthouse. The trail then continues on passing by Lions Den which is a spectacular natural hole caused by the collapse of a former cave. As you traverse around the coastal path you pass Housel Bay with its hidden cove. From here the trail is fairly flat with some short steep sections and once you reach the small fishing village of Cadgwith you'll have to climb down and out of the quaint fishing village. Cadgwith is a wonderful seaside village with lots of surprising thatched houses. After leaving Cadgwith the path traverses round through thick blackthorn, gorse and bracken. You will encounter some extraordinary geology along this section including Old Serpentine Works which was a thriving Victorian rock factory steeped in history. After crossing the sandy beach of Kennack sands the path is fairly flat but with a few steep climbs as you cross over the cliff-tops toward the seaside village of Coverack.
Coverack to Mawnan Smith- Fishing Villages, Clifftops and Creeks
This is the longest section on this holiday which begins with some easy cliff-top walking mixed with some splendid coastal views. The path then changes as you pass to the side of Dean Quarry where you have to stick closely to the path. After passing Dean Point you come away from the cliff tops and follow the route inland when you reach Godrevy Cove. The trail passes through fields, past the small village of Porthoustock and then onto Porthallow. Porthallow marks the half way point on the full South West Coastal path for anyone fit enough to partake in the full 630 miles of the route. The trail then re-joins the cliff tops once again following a flat stretch around the coastline to Gillian Creek. Here you need to cross the creek and have a few options on how to safely make the crossing. Depending on tide levels you can cross the creek but only one hour either side of low tide. The best option is to take the path around the estuary which takes between 40-45mins. The trail then snakes around the flat coastline passing by Bosahan Cove through woodlands.  Upon reaching Helford the easiest way to cross the river is by Helford Ferry. Which run's daily from 9.30am-9.30pm during high season April- June and then from 9.30am-5.30pm in low season September- October. The trail then bends round the side of the coast on a fairly flat path all the way up to Mawnan Smith.
Mawnan Smith to Falmouth- The Big Finish
This is the shortest section of this route giving you plenty of time to go and explore the wonders of your ultimate finishing point of Falmouth. This section of walking is mainly flat with no real climbs. You pass through a series of little beaches along Gatamala Cove and Bream Cove. There are only a few small villages you pass on this section which include Maenporth and Swanpool. Upon reaching Falmouth you walk along its promenade towards Pendennis Castle which marks the finish point on this delightful route.




Middelmatig - Uitdagend
Dit is een relatief makkelijke wandeling en meeste mensen met een goede conditie kunnen deze tocht doen. De paden zijn goed en de navigatie eenvoudig.
Terrein: Een kustpad dat voornamelijk door boerenland, veenland, klifpaden en korte delen langs stranden gaat.
Hoe zijn de paden: Voornamelijk goede paden en laantjes maar kleine delen kunnen wat modderig zijn na regen.
Hoeveel klimmen/ dalen: Meer dan je zou verwachten! Alhoewel u nooit hoger dan 200 meter boven zeeniveau (en meestal maar 100 m) klimt zijn er vele korte steile klimmetjes. De meeste dagen hebben een totaal van tussen de 200 en 400 meter stijging, deze zijn echter van korte duur.
Bewegwijzering: Goed. het pad is goed bewegwijzert
Navigatie: Vrij eenvoudig, goede paden en bewegwijzering, houd uw kaart en gidsje echter bij de hand.
Weer: Als u geluk heeft dan is het de hele dag droog en warm weer en geniet u van de prachtige uitzichten, maar neem altijd regenkleding mee, het weer kan snel veranderen.
                                                                        All Holidays

Accommodation
Overnight Bed and Breakfast accommodation in selected hotels, farmhouses, village inns, guest houses and family B&Bs.Full English or Continental breakfast.
Guidebook
A detailed guidebook with route information, maps, photos and background information.
Information of Services Along the Route
A comprehensive Service Info sheet, including services such as cash points, banks, post offices, village shops, inns, cafes and taxis.
Maps
A waterproof map from Harvey Maps covering the whole route.
Personal Itinerary
A personal itinerary setting out each overnight stop, including large scale maps of each accommodation, to ensure you find it easily.
Emergency Telephone Support
If you get in to difficulties during your holiday, we are always available to help, even out of office hours.
12.5% discount at Cotswold Outdoors
We will issue you with a 12.5% Discount Card valid at all Cotswold Outdoor stores, and online, for the whole year on confirmation of your booking.

Options

Luggage Transport
We will transfer your luggage between each overnight stop if you leave your luggage at the accommodation when you set off in the morning, it will be moved on to your next B&B. You only need to carry a small day sack with the clothes and provisions you require during the day's walk.
Packed Lunches

Provided for each day's walking and recommended on this holiday as there will not always be a handy shop or cafe on the route.
Off Road Parking
It is not possible to leave your car for the duration of the walk, the B&B's do not have the space have the space to allow long term parking. Please see the public transport tab for more information on travelling to and from the route.

What's not Included

Evening Meals
Your evening meal isn't included in the package, but we include full details and recommendations for each evening meal in your itinerary. You will normally be within walking distance of a pub and/or restaurant, or where there is good food available at the accommodation, we'll book that for you.
Transport to the Start & Away from the Finish
Have a look at the "Travel Info" tab above for suggestions. If you're still struggling, get in touch and we'll help you sort it out.
Travel Insurance
Even if you are based in the UK travel insurance is worth having.
Goede accommodatie en een vriendelijk ontvangst zijn een essentieel onderdeel van alle vakanties. Wij begrijpen dit en doen ons best om de mooiste accommodaties uit te zoeken. Wij besteden een hoop tijd aan het selecteren van de accommodatie en doen ons best deze zoveel mogelijk aan de wensen van onze klanten toe te passen. Wij bezoeken alle accommodatie en vragen al onze klanten u kort evaluatieformulier in te vullen. Dit geeft ons een goed inzicht op de dagelijkse werkingen van de accommodaties en geeft ons een waarschuwing voordat er problemen ontstaan.
Wij gebruiken een verscheidenheid aan accommodatie op onze tochten, waaronder kleine hoteletjes, pensions in marktstadjes, Bed & Breakfasts in boerderijen, landelijke huisjes en Victoriaanse stadshuizen. Wij selecteren accommodatie die langs of zo dicht mogelijk bij het pad ligt en van goede kwaliteit is. Ook erg belangrijk is dat de gastvrouw/ heer vriendelijk en hulpvaardig is, wij werken al jaren met velen van de accommodaties en wij hebben over deze tijd een goede relatie opgebouwd.
De meerderheid van onze accommodatie is 4 sterren of hoger en is meestal ensuite (met badkamer op de kamer). In sommige locaties (vooral de meer afgelegen waar wij minder keus hebben) is dit niet altijd mogelijk en moeten wij op een of twee nachten een kamer boeken met een gedeelde badkamer. De kans hierop wordt groter als u kort voor vertrek boekt, wij maken u hierop attent als u laat boekt.
Algemene reisinformatie voor het South West Coast gebied zal in uw vakantiepakket zitten, inclusief bus en treintijden waar beschikbaar. U krijgt gedetaïlleerde instructies naar uw eerste accommodatie, per auto of openbaar vervoer, op uw individuele accommodatie kaartjes.
Om de treintijden te bekijken ga naar qjump waar u ook vooruit tickets kan bestellen. Voor bustijden ga naar traveline
Het is erg lastig en duur om te parkeren bij deze route, wij raden aan om met openbaar vervoer te reizen.
Aanreis:
Per vliegtuig: Er is een uurlijkse trein van London Paddington station naar Penzance, soms direct of overstappen in Plymouth of Par (reistijd ongeveer 6 uur). Als alternatief kan u ook reizen via Cornwall Airport Newquay (directe vluchten vanuit Europa en aansluitende vluchten vanaf Londen Gatwick – Cornwall- Newquay). Er rijdt elk uur een shuttlebus van het vliegveld Newquay naar het treinstation, vanwaar u de trein in Penzance neemt (overstappen Par) dit is ongeveer 3 uur reistijd. U kan ook een taxi nemen, er is een taxi kantoor op het vliegveld, reistijd anderhalf uur.
Per openbaar vervoer: Er is een treinstation in Penzance (PNZ) Er is een uurlijkse trein van London Paddington station naar Penzance, soms direct, of overstappen in Plymouth of Par (reistijd ongeveer 6 uur). Er rijdt elk uur een shuttlebus van het vliegveld Newquay naar het treinstation, vanwaar u de trein in Penzance neemt (overstappen Par) dit is ongeveer 3 uur reistijd. U kan ook een taxi nemen, er is een taxi kantoor op het vliegveld, reistijd anderhalf uur.
Er is een taxistandplaats op het station of lokale taxi-nummers zijn te vinden aan de achterkant van uw services lijst. Voor treintijden en tickets ga naar qjump
Per auto: Wij adviseren het openbaar vervoer te gebruiken op al onze South West Coast vakanties. Parkeren is bijna nergens mogelijk op deze route.
Terugreis:
Per openbaar vervoer:  Het is ongeveer 6 uur reistijd van Falmouth naar Londen (overstappen Truro). Voor treintijden en tickets ga naar qjump
Penzance
Penzance has a strong history and was known as the commercial centre for the tin-mining industry back in the 19th century. Penzance is the ideal spot for a rest day as there is so much to explore in the surrounding area.  For example, St Michael's Mount is a short distance away from Penzance and a true holiday highlight to explore the history behind the castle and gardens.
Falmouth
Falmouth is a thriving harbour town and is famous for its creative exhibitions, independent shops and art galleries. The town has an abundance of seafood restaurants with freshly caught produce and beachside restaurants. Falmouth is also known for its beautiful gardens, like the Trebah Gardens and the Gyllyngdune Gardens which are both wonderful places to explore and to relax in. You can also explore the National Maritime Museum of Cornwall which houses a large collection of boats and listen to stories of past explorers.
Prijzen

EUR (€)

Accommodatie, kaart en gidsje
€942
met bagagevervoer
€1039
met lunchpakketten
€1007
met lunchpakketten en bagagevervoer
€1099

Verdere opties

Extra overnachtigingen
€109
Eenpersoonskamer toeslag (per nacht)
€70
Solo Luggage Supplement (per day)
€19