North Cornwall kust pad: Padstow naar St Ives
Padstow naar St Ives in 6 dagen wandelen Code: CNW7
Wij bieden twee verschillende opties van St Ives naar Penzance - kies uit 6 of 4 dagen wandelen, afhankelijk van hoe ver je elke dag wil lopen.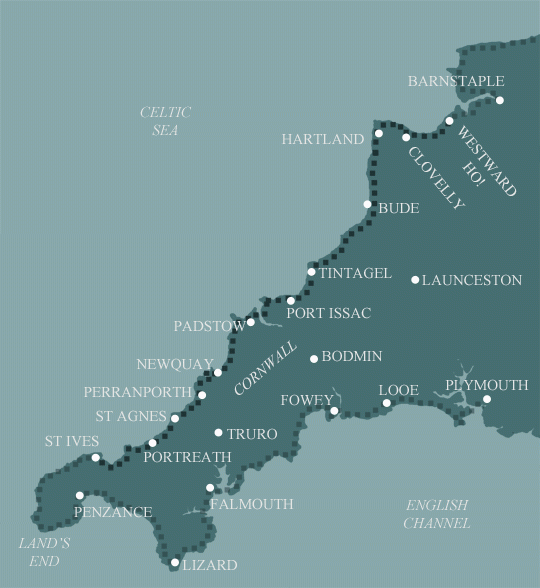 Dit is de langste vakantie van Padstow naar St Ives. Als je de hele route over 6 dagen loopt, heb je genoeg tijd om van de route te genieten, maar nog steeds een uitdaging en een gevoel van prestatie (of opluchting) aan het einde!
| | | Mijl | Km |
| --- | --- | --- | --- |
| Dag 1 | Reis naar Padstow voor uw eerste overnachting | | |
| Dag 2 | Padstow naar Porthcothan | 12 | 19 |
| Dag 3 | Porthcothan naar Newquay | 12 | 20 |
| Dag 4 | Newquay naar Perranporth | 10 | 16 |
| Dag 5 | Perranporth naar Portreath | 11 | 18 |
| Dag 6 | Portreath naar Hayle | 12 | 19 |
| Dag 7 | Hayle naar St Ives | 6 | 10 |
| Dag 8 | Vetrek uit St Ives na uw ontbijt | | |
Padstow to Porthcothan – Seafood, harbors and shops
Originally called Petrocstow, Padstow is the most sheltered and important harbour in the North of Cornwall. After spending your first night exploring Padstow's fine restaurants the trail begins gently and eases you in to your day's walk. Your first climb is at Stepper Point where you'll pass the 19th century stone Daymark Tower, which was used as navigational tool by local sailors. The route then passes Butter Hole Cove, Gunver Head and then onto Harlyn Bay, the latter bay is famous for surfers and is home to a fascinating combination of rocky shoreline, sand dunes and tide pools to explore. Shortly after Harlyn Bay is Trevose Head which is the perfect spot for a picnic lunch next to the lighthouse. Your chance of spotting wildflowers increases on this section – particularly in May – and you may spot cornflowers, sea pinks and kidney vetch. Constantine Bay has a reputation as one of the best surf beaches in the area with one of the best swell pulls in Cornwall. The trail then leads you up and down over Pepper Cove, Warren Cove and Fox Cove until you descend into Porthcothan Bay.
Porthcothan to Perranporth – Long sandy beaches, surfer's paradise and birdlife
This section begins with a slow climb up to the clifftop towards Park Head and then onto Bedruthan Steps. The steps here are a geological wonder with magnificent views of the towering sea stacks. Whether the sea is calm or stormy this is an iconic and unforgettable view. Once you pass the Bedruthan Steps the impressive geology of the area can be a breath-taking experience. The trail then reaches Mawgan Porth which has a selection of cafés to stop for refreshments. A slight climb out of Mawgan Porth is followed with a minor descent towards Beacon Cove. You are then treated to glorious views from Griffin Point which is also home to an Iron Age fort. The trail then traverses round the clifftop at Watergate Bay which is a very popular spot for beach-goers, but due to tide times it is safer to stick to the clifftop path rather than the beach. Once you pass Trevelgue Head you can't fail to notice the more urban scenery of Newquay. Newquay is one of the most popular spots for surfers in the UK and is famous for hosting several annual surfing events. The next few miles are quite a contrast from the clifftop paths but very interesting to explore. When you leave the busy surfing town of Newquay you have a few different options to cross the Gannel River onto the village of Crantock. There is a local ferry that runs in the summer months which crosses the Gannel River from Pentire to Crantock, or if you prefer to walk you can follow the trail and cross the river at the Laurie foot bridge at Trevemper. Upon leaving Crantock the next 8 miles are filled with wonderful coastal views but the trail on this section does include some sharp climbs up over the clifftops and down again.  Perranporth is the largest settlement between Newquay and St Ives and is famous for its miles and miles of golden sands. It's a popular spot for surfers and as the Perran beach is so long it can feel as if you have the whole beach to yourself.
Perranporth to Portreath – Seal spotting and Cornish mines
This section of the trail from Perranporth to Portreath is covered in heathland which once covered the whole of the west of Cornwall. This area is also a good spot for seal watching so keep your eyes peeled when you reach Newdowns Head. There are not too many climbs on this section which makes for some easier walking. The main climb on this section is at Chapel Point just after you pass St Agnes's Head and the views here are outstanding. You'll notice the former tin mine of Wheal Coastes on this section between Porthtowan and St Agnes. The former mines along this section are also home to the rare Greater Horseshoe bat. The next three miles from Porthtowan to Portreath are mainly alongside the Nancekuke military area where you need to traverse around its high fences.  Even with these high fences in place, the views over the coastline are spectacular on your way into Portreath.
Portreath to St Ives – Lighthouses, museums and galleries
Leaving Portreath there is a slight climb out of the village but you will find the rest of this section to be fairly flat with only one main climb at Godrevy's Point. In good weather you can spot Godrevy's Island in the distance with Godrevy's lighthouse from the clifftops. After climbing over the steepest part of this section at Godrevy's Point you'll notice the brightly coloured wildflowers such as primroses, blue sheep's bit and yellow rattle – quite a contrast from the jagged reefs below. The coast path then follows along a vast sandy beach towards the town of Hayle. This was the first town in Cornwall to be awarded "Walkers Are Welcome" status which means the footpaths and trails around the town are well maintained and well-marked. Hayle is also famous for having Britain's oldest swing bridges and was once the most important industrial port in Cornwall and a centre of copper mining and smelting. The Coast Path here also follows part of the ancient pilgrim route called St Michael's Way which led pilgrims across Cornwall from Lelant to Marazion, near Penzance, where they would then travel on to the Cathedral of St James in Santiago de Compostela in north-west Spain. From Hale you follow the railway line to St Ives, passing Carbis Bay and through the wooded outskirts of the town before arriving at the large, sheltered expanse of golden sand that is Porthminster Beach.




Middelmatig - Uitdagend
Dit is een relatief makkelijke wandeling en meeste mensen met een goede conditie kunnen deze tocht doen. De paden zijn goed en de navigatie eenvoudig.
Terrein: Een kustpad dat voornamelijk door boerenland, veenland, klifpaden en korte delen langs stranden gaat.
Hoe zijn de paden: Voornamelijk goede paden en laantjes maar kleine delen kunnen wat modderig zijn na regen.
Hoeveel klimmen/ dalen: Meer dan je zou verwachten! Alhoewel u nooit hoger dan 200 meter boven zeeniveau (en meestal maar 100 m) klimt zijn er vele korte steile klimmetjes. De meeste dagen hebben een totaal van tussen de 200 en 400 meter stijging, deze zijn echter van korte duur.
Bewegwijzering: Goed. het pad is goed bewegwijzert
Navigatie: Vrij eenvoudig, goede paden en bewegwijzering, houd uw kaart en gidsje echter bij de hand.
Weer: Als u geluk heeft dan is het de hele dag droog en warm weer en geniet u van de prachtige uitzichten, maar neem altijd regenkleding mee, het weer kan snel veranderen.
                                                                                           All Holidays

Accommodation
Overnight Bed and Breakfast accommodation in selected hotels, farmhouses, village inns, guest houses and family B&Bs.Full English or Continental breakfast.
Guidebook
A detailed guidebook with route information, maps, photos and background information.
Information of Services Along the Route
A comprehensive Service Info sheet, including services such as cash points, banks, post offices, village shops, inns, cafes and taxis.
Maps
A waterproof map from Harvey Maps covering the whole route.
Personal Itinerary
A personal itinerary setting out each overnight stop, including large scale maps of each accommodation, to ensure you find it easily.
Emergency Telephone Support
If you get in to difficulties during your holiday, we are always available to help, even out of office hours.
12.5% discount at Cotswold Outdoors
We will issue you with a 12.5% Discount Card valid at all Cotswold Outdoor stores, and online, for the whole year on confirmation of your booking.

Options

Luggage Transport
We will transfer your luggage between each overnight stop if you leave your luggage at the accommodation when you set off in the morning, it will be moved on to your next B&B. You only need to carry a small day sack with the clothes and provisions you require during the day's walk.
Packed Lunches

Provided for each day's walking and recommended on this holiday as there will not always be a handy shop or cafe on the route.
Off Road Parking
It is not possible to leave your car for the duration of the walk, the B&B's do not have the space have the space to allow long term parking. Please see the public transport tab for more information on travelling to and from the route.

What's not Included

Evening Meals
Your evening meal isn't included in the package, but we include full details and recommendations for each evening meal in your itinerary. You will normally be within walking distance of a pub and/or restaurant, or where there is good food available at the accommodation, we'll book that for you.
Transport to the Start & Away from the Finish
Have a look at the "Travel Info" tab above for suggestions. If you're still struggling, get in touch and we'll help you sort it out.
Travel Insurance
Even if you are based in the UK travel insurance is worth having.
Goede accommodatie en een vriendelijk ontvangst zijn een essentieel onderdeel van alle vakanties. Wij begrijpen dit en doen ons best om de mooiste accommodaties uit te zoeken. Wij besteden een hoop tijd aan het selecteren van de accommodatie en doen ons best deze zoveel mogelijk aan de wensen van onze klanten toe te passen. Wij bezoeken alle accommodatie en vragen al onze klanten u kort evaluatieformulier in te vullen. Dit geeft ons een goed inzicht op de dagelijkse werkingen van de accommodaties en geeft ons een waarschuwing voordat er problemen ontstaan.
Wij gebruiken een verscheidenheid aan accommodatie op onze tochten, waaronder kleine hotelletjes, pensions in marktstadjes, Bed & Breakfasts in boerderijen, landelijke huisjes en Victoriaanse stadshuizen. Wij selecteren accommodatie die langs of zo dicht mogelijk bij het pad ligt en van goede kwaliteit is. Ook erg belangrijk is dat de gastvrouw/ heer vriendelijk en hulpvaardig is, wij werken al jaren met velen van de accommodaties en wij hebben over deze tijd een goede relatie opgebouwd.
De meerderheid van onze accommodatie is 4 sterren of hoger en is meestal ensuite (met badkamer op de kamer). In sommige locaties (vooral de meer afgelegen waar wij minder keus hebben) is dit niet altijd mogelijk en moeten wij op een of twee nachten een kamer boeken met een gedeelde badkamer. De kans hierop wordt groter als u kort voor vertrek boekt, wij maken u hierop attent als u laat boekt.
Padstow
Padstow is famous for its scrumptious seafood restaurants and its bustling harbour. One of Padstow's highlights is the great variety of dining options which include a selection of the famous TV chef Rick Stein's Seafood restaurants. Padstow has a lot to offer so it is best to book an extra night here to make the most of the town.
St Ives
A rest day in St Ives is a must when exploring the Cornish sights! Add an extra day to explore the picturesque fishing town with its narrow cobbled streets, quaint shops and restaurants. St Ives has an abundance of local artists and offers a wide range of galleries and museums to visit.
Prijzen

EUR (€)

Accommodatie, kaart en gidsje
€1066
met bagagevervoer
€1182
met lunchpakketten
€1144
met lunchpakketten en bagagevervoer
€1254

Verdere opties

Extra overnachtigingen
€109
Eenpersoonskamer toeslag (per nacht)
€70
Solo Luggage Supplement (per day)
€19