Sea to Sea
St Bees to Tynemouth in 2 days Cycling Code: SS3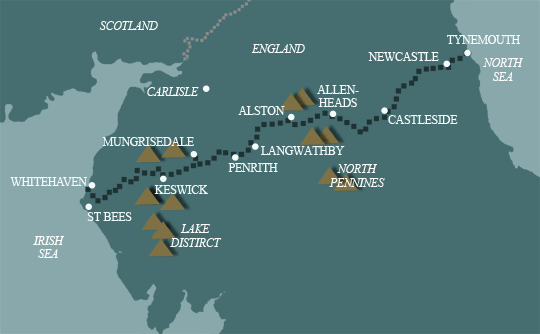 The 144 mile Sea to Sea Cycle Route is probably the most popular and widely known long distance cycle route in Britain. It starts in Whitehaven (we use St Bees), running through the northern Lake District, it then climbs into the hill country of the North Pennines and onto the roof of England with grand views of the Durham Dales. It finishes in Tynemouth, near Newcastle upon Tyne on the North sea coast.
The route is well waymarked and there are many variations on the route, so it can include some challenging mountain biking or just roads and cycleways.
Of all our Sea to Sea cycling holidays this is the one for the more serious cyclist, covering the whole route in just 2 days! You will require an excellent level of fitness and a good touring bike.
| | | Mijl | Km |
| --- | --- | --- | --- |
| Dag 1 | Reis naar St Bees voor uw eerste overnachting | | |
| Dag 2 | St Bees naar Alston | 82 | 132 |
| Dag 3 | Alston naar Tynemouth | 62 | 100 |
| Dag 4 | Vetrek uit Tynemouth na uw ontbijt | | |
St Bees – Whitehaven – Alston
Following the Cumbria/Hadrian cycle route from St Bees to Whitehaven for the first 4 miles you will then pick up the Sea to Sea cycle route from Whitehaven, a pleasant sea port with an attractive town. For the first 10 miles the route follows the Whitehaven to Ennerdale Railway Path, a well surfaced traffic-free trail. The route then climbs fell sides, follows lake shores and goes through Whinlatter Forest Park onto Keswick, passing through some of Britain's most beautiful scenery.
On leaving Keswick you will ride along the delightful Keswick to Threlkeld rail trail, deep in the gorge of the river Greta. From Threlkeld the route skirts the slopes of Blencathra, one of Cumbria's most distinctive mountains, en route for the hamlet of Mungrisdale. From here it continues on cycle paths and lanes through the fringes of the Lake District to the market town of Penrith and the village of Langwathby in the Eden Valley. (There is an alternative off road route across the Old Coach Road over Threlkeld Common, but this is not suitable for heavily laden bikes).
You then continue with a long climb up Hartside Pass into the North Pennines, known as England's last wilderness. This is a huge, wild upland area characterised by open moorlands and plenty of wildlife. You then arrive at Alston for your nights stay, England's highest market town.
Alston – Tynemouth
Today you will continue with a climb up Black Hill, the highest point on the Sea to Sea route and then it's onto the old mining village of Allenheads. This section marks the end of the rough, hilly terrain of the Northern Pennines and the start of the industrial landscape of the north east. Although most of the route between Allenheads and Castleside is on lanes, the traffic is relatively light allowing you to enjoy the wild grandeur of the moorlands.
Between Castleside and Newcastle the route travels mainly on cycle paths alongside the river Tyne into Newcastle upon Tyne and onto your final destination, the north pier at Tynemouth, where this ride finishes.



Middelmatig

All Holidays

Accommodation

Overnight Bed and Breakfast accommodation in selected hotels, farmhouses, village inns, guest houses and family B&Bs.

Full English or Continental breakfast.

Guidebook
A detailed guidebook with route information, maps, photos and background information, including details of services to be found along the route. For example, cash points, banks, post offices, village shops, inns, cafes and telephones.
Maps
The appropriate map(s) covering the entire route
Personal Itinerary
A personal itinerary setting out each overnight stop, including large scale maps of each accommodation, to ensure you find it easily.
Emergency Telephone Support
Should you get in to difficulties during your holiday.
15% discount at Cotswold Outdoors
We will issue you with a 15% Discount Card valid at all Cotswold Outdoor stores for the whole year on confirmation of your booking.

Options

Luggage Transport
We will transfer your luggage between each overnight stop – if you leave your luggage at the accommodation when you set off in the morning, it will be moved on to your next B&B. You only need to carry a small day sack with the clothes and provisions you require during the day's cycling.

Packed Lunches

Provided for each day's cycling if required.
Off Road Parking
If you are travelling by car we can usually arrange off road parking for the duration of your trip. (There may be a small charge for this).
Arrangement of return transport
We can also arrange your transfer back to your car, (or advise you when public transport is a better option).
Goede accommodatie en een vriendelijk ontvangst zijn een essentieel onderdeel van alle vakanties. Wij begrijpen dit en doen ons best om de mooiste accommodaties uit te zoeken. Wij besteden een hoop tijd aan het selecteren van de accommodatie en we doen ons best deze zoveel mogelijk aan de wensen van onze klanten te voldoen. Wij bezoeken alle accommodatie en vragen al onze klanten een kort evaluatieformulier in te vullen. Dit geeft ons een goed inzicht in de dagelijkse werkingen van de accommodaties en geeft ons een waarschuwing voordat er problemen ontstaan.
Wij gebruiken een verscheidenheid aan accommodaties op onze tochten, waaronder kleine hotelletjes, pensions in marktstadjes, Bed & Breakfasts in boerderijen, landelijke huisjes en Victoriaanse stadshuizen. Wij selecteren accommodaties die langs of zo dicht mogelijk bij het pad liggen en van goede kwaliteit zijn. Ook erg belangrijk is dat de gastvrouw/ heer vriendelijk en hulpvaardig is. Wij werken al jaren met velen van de accommodaties en wij hebben over deze tijd een goede relatie opgebouwd.
De meerderheid van onze accommodatie is 4 sterren of hoger en is meestal en suite (met badkamer op de kamer). In sommige locaties (vooral de meer afgelegen waar wij minder keus hebben) is dit niet altijd mogelijk en moeten wij op een of twee nachten een kamer boeken met een gedeelde badkamer. De kans hierop wordt groter als u kort voor vertrek boekt. Wij maken u hierop attent als u laat boekt.
General travel information for the Sea to Sea Cycle route will be in your holiday pack including train and bus timetables where available.
Detailed instructions on getting to your first night's accommodation from the nearest train or bus station, will also be included in the holiday pack on individual accommodation maps.
To view train times please visit www.nationalrail.co.uk where you can also purchase tickets in advance. For information on bus timetables please visit www.traveline.info
If you require secure car parking whilst walking this route, please contact us for detailed information.
Getting There:
By Air: Your nearest international airports are Manchester (MAN) and Newcastle (NCL) you can then take a train to St Bees.
By Public Transport: There is a train station in St Bees Village (SBS). Most train journeys will pass through Carlisle (CAR) where you will need to change for St Bees.If travelling on a Sunday take the train to Whitehaven, from where it is a 3 mile journey to St Bees.
By Road: St Bees is on the Cumbrian coast approximately an hour's drive from junction 40 on the M6. From the M6 you follow the A66 then the A595.

Returning from Tynemouth
Take the Metro from Tynemouth to Newcastle Central Station (you will need some change for the ticket machine). Newcastle is on the East Coast Mainline and has a Metro link to Newcastle Airport (NCL).
Geen aanbevolen rustdagen voor deze vakantie
Prijzen

EUR (€)

Accommodatie, kaart en gidsje
€470
met bagagevervoer
€527
met lunchpakketten
€492
met lunchpakketten en bagagevervoer
€547

Verdere opties

Extra overnachtigingen
€90
Eenpersoonskamer toeslag (per nacht)
€58
Solo Luggage Supplement (per day)
€28